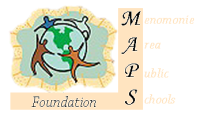 The Menomonie Area Public Schools Foundation (MAPS) dissolved in 2012 and transferred the management of its funds and scholarships over to the professional management of the Community Foundation.
The Community Foundation recognizes the growing challenge of supporting students who are motivated to attain their degrees and achieve their career goals. The MAPS scholarship program consists of many different scholarship funds established by generous individuals, businesses and through legacy gifts. All of them are dedicated to making sure that educational opportunities are available to Menomonie High School students who need and deserve them.
The following scholarships are available each year to graduating seniors from Menomonie High School.  Applications are shared and submitted through the high school Guidance Department.
List of Scholarships
Dollars for Scholars is the general scholarship fund of the Menomonie High School. Scholarship are granted for graduating seniors to attend an accredited institution of higher education, and have documented community service hours
---
Endowed Scholarships
The gift of an endowed scholarship provides the Menomonie Area School Distrct and the Community Foundation with a permanent asset from which students can receive support. The gift becomes a fund managed by the Community Foundation, whose investment objective is to achieve growth that is sufficient to preserve the value of the gift so the annual award is not diminished by inflation. Awards are made annually to deserving students according to the donor's wishes.
Dr. Bjarne Heian was the community physician in the Knapp area from 1934-1946. Dr. Heian and his children established this scholarship through a Trust with Menomonie Area Public Schools Foundation as a method of thanking the community of Knapp where he began his medical practice.
Lois Siefert worked at Memorial Hospital and took additional training to become a certified school nurse. She worked as the school nurse for the Menomonie School System for 18 years, retiring in 1978. Every year, two scholarships are made in her memory. Recipients must be graduating seniors who are planning postsecondary education in a field related to medicine (this may include nursing, diabetic, and other health related careers). A letter of recommendation is required.
The Class of 1959 Scholarship shall be awarded annually to an MHS senior who has expressed an interest in continuing his/her education toward a degree that allows them to teach at the high school level.  An essay is required.
---
Non-Endowed Scholarships
This is a scholarship fund type in which the donor contributes the award amount annually. Contributions can be added to the fund by the initial donor and/or others who may wish to contribute to the fund (i.e., family, friends, employers, co-workers etc.). These scholarships were transferred over to the Community Foundation by MAPS and we are proud to honor their commitment to these families and businesses. Unfortunately we cannot accept new scholarships of this type.  All new scholarships must be endowed scholarships. Smaller gifts may be made directly or in memory or in honor of someone through the Dollars for Scholars General Scholarship Fund or one of the MAPS Field of Interest Scholarship Funds. Please contact the Community Foundation for more information.
---
Memorial Scholarships
Active Funds:
Closed Memorial Scholarship Funds:
Brad Karis Memorial Scholarship
Carrie Ann Lehmann Memorial Scholarship
Eleanor Koehler Memorial Scholarship
Marissa Joyce Memorial Scholarship
Thomas Ropella Memorial Scholarship
Todd Bauer Memorial Scholarship

---
These scholarships have been established by local businesses, families, organizations or Alumni Classes to benefit Menomonie High students: