Higher Standards
The Community Foundation of Dunn County is accredited with National Standards for U.S. Community Foundations™—the highest standards for philanthropic excellence.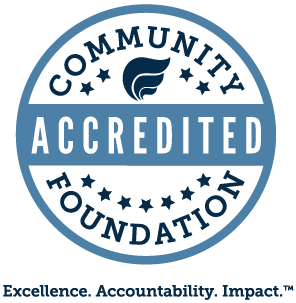 We work to support the causes our community cares about, from supporting the arts and cultivating gardens to curing illness, expanding literacy and feeding children. National Standards says that we meet the most rigorous standards in philanthropy and is a promise to our community that we'll continue to do this good work together, right here in Dunn County.
National Standards is not mandatory. We chose to go above and beyond by affirming our commitment to excellence and accountability. Our accreditation provides assurance that we have sound policies and practices in place. In short, it means we meet the highest standards for local giving.
To receive accreditation with National Standards, the Community Foundation of Dunn County submitted our policies and procedures to a rigorous review of 41 National Standards in six key areas of community foundation operations, including donor services, investment management, grantmaking and administration.
The National Standards for U.S. Community Foundationsâ"¢ program was established in 2000 in cooperation with the Council on Foundations. For more information about National Standards, visit www.cfstandards.org.
Our Commitment:
National Standards for U.S. Community Foundationsâ"¢ establish legal, ethical, effective practices for community foundations everywhere.
National Standards indicate our commitment to excellence, accountability and transparency.
National Standards guide sound policies and responsible practices, and show that we are credible and trustworthy.
To maintain and renew our accreditation, our policies and practices are reviewed every five years.
The accreditation program is administered by the Community Foundations National Standards Board (CFNSB).
The CFNSB is a supporting organization of the Council on Foundations
National Standards were formally adopted in 2000.
More than 500 community foundations are accredited.