The Community Foundation of Dunn County
The Community Foundation of Dunn County was created in 1995 by a group of community members to promote charitable giving that would create a permanent source of capital to benefit and enrich the quality of life of everyone in the Dunn County area.
Countless acts of generosity, small and large, have brought us to where we are today. What has been consistent is the strong desire to give back by the people who live here.
We are truly YOUR community Foundation.
The Community is where we work, where we play, where we raise our children, where we call home. Our community has given us so much and it is our responsibility to give back.

Your Passion is Our Passion
Our mission:
Working with donors to help them achieve their philanthropic goals by helping them create individual or family funds to benefit specific causes or organizations
Encouraging and participating in community initiatives and partnerships
Broadening the base of effective leadership in the community
Building awareness of the role of philanthropy in meeting the community's needs
Providing services to other charitable organizations
Managing the Foundation's assets responsibly
We are accredited by the National Standards for U.S. Community Foundations and continue to receive national recognition for our financial health, accountability and transparency.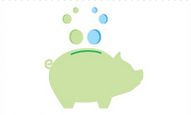 Did you know we are Dunn County's Piggy Bank?
The Community Foundation is the collective savings account of our community. While the gift you make to a local charity is critical to sustain programs and meet the needs of the people they serve every day, the Community Foundation is in a position to look at the bigger picture, anticipating and focusing on future issues, and addressing those needs through endowed funds. The Community Foundation manages  our community's savings account of $4.7 million, either established by or contributed to by individuals, families, businesses, foundations and others. [/one_half]
---
---
Our Grantmaking
Over the past 18 years, the Community Foundation of Dunn County has awarded over $2 million in grants and scholarships from our unrestricted funds as well as our endowed, designated and special project funds. Grants from the unrestricted fund are made through a competitive process twice a year to help non-profit organizations provide needed services in arts and culture, education, environment, health and human services .
In the first 3 months of 2014 alone, we have given out over $100,000 to the community from our various funds.
Everyone can be a philanthropist at the Community Foundation and make a difference.
---
---
We are proud members of:


---
---

---
---