2017 Grants Awarded
Grant Highlights:
DUNN COUNTY DEMENTIA COALITION:  Making Dunn County Dementia-Friendly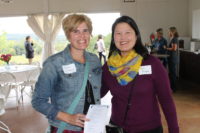 Pictured: Angela Kjellberg & Sara Olinger of the Dunn County Dementia Coalition accepting their grant at the CFDC Evening of Gratitude event.
The Dunn County Dementia Coalition recently formed in an effort to help create an educated and supportive community for those living with dementia.  It is estimated that over 700 Dunn County residents are living with some type of dementia according to the Alzheimer's Association.  Symptoms such as memory loss, confusion, and agitation can create uncomfortable and unsafe situations in the community when people are unprepared to appropriately respond and support someone experiencing these symptoms.
The Coalition received grant funding to provide short training sessions to interested businesses and organizations to help educate the community on the symptoms of dementia so we as a community can better serve and support those affected.  Trainings aim to:  help people identify dementia symptoms early, inform participants on the community resources available, and ensure an overall improved experience for both the persons experiencing dementia symptoms and the community members interacting with them.  Businesses or groups interested in participating in the training can contact the Dunn County Aging & Disability Resource Center for more information.
February 2017 Competitive Grant Recipients:
 THE ARC OF DUNN COUNTY, INC.
Launchpad Home for Young Adults
CENTER FOR INDEPENDENT LIVING OF WESTERN WI
Dispatch Software Upgrades
DUNN COUNTY HISTORICAL SOCIETY
Summer Children's Program
DURAND SWIM CLUB
WSI Lifeguard Training Program
EAU CLAIRE AREA HMONG MUTUAL ASSISTANCE ASSOC.
Dunn County Rice Pantry
GRASSROOTS EMPOWERMENT PROJECT, INC.
Alternatives to Suicide Facilitator Training
MABEL TAINTER CENTER FOR THE ARTS
Security Camera Support
MENOMONIE AREA (SHIRLEY DOANE) SENIOR CENTER
Dining Room Chair Replacement
SOFT LANDING TRANSITION SERVICES, LLC
Housing, Transportation & Support Services
STEPPING STONES OF DUNN COUNTY
Supplemental Food for Meals on Wheels
UNIVERSITY OF WISCONSIN – STOUT
STEPS for Girls Camp Scholarships for Minority Youth
WEST WISCONSIN LAND TRUST
Devil's Punchbowl Safety & Accessibility
WORKFORCE RESOURCE, INC.
Technology for Training Room
August 2017 Competitive Grant Recipients:
BOYS & GIRLS CLUB – MENOMONIE CENTER
Member Scholarships for Those Who Need Us Most
CHILDREN'S MUSEUM OF EAU CLAIRE
Sky Stories: Planetarium Outreach Program
GIRL SCOUTS OF THE NW GREAT LAKES, INC.
Girl Scout Leadership Experience STEM Program
COLFAX RAILROAD MUSEUM, INC.
Site Development for Colfax Heritage Event
MABEL TAINTER CENTER FOR THE ARTS
Children's Series
STEPPING STONES OF DUNN COUNTY
Food Aid for Food Pantry Patrons
THE ARC OF DUNN COUNTY
Life Skills Program Space for Individuals with Disabilities
THE BRIDGE TO HOPE
Comfort Essentials for Domestic Violence Victims
DUNN COUNTY DEMENTIA COALITION
Making Dunn County Dementia-Friendly
INDIANHEAD ENTERPRISES, INC.
Vocational Equipment for Individuals with Disabilities
DUNN COUNTY HUMANE SOCIETY
Pets for Seniors And Vets Program
BOYCEVILLE COMMUNITY AMBULANCE
Reflective Safety Equipment for EMS Staff
RIDGELAND AREA LIBRARY
Basement Remodel for Program Expansion
REACH OUT AND READ
Pediatric Literacy Program at Mayo Clinic-Red Cedar