February 2014 Grants Awarded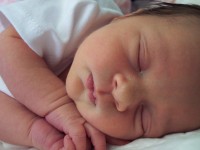 DUNN COUNTY HEALTH DEPARTMENT – Nurse-Family Partnership Training – $6,000
One of the Dunn County Health Department's main jobs is to offer a broad array of maternal and child health programming. The Family-Nurse Partnership (NFP) program is an evidence-based community health program that empowers first time mothers living in poverty to become confident parents and strong women by pairing expectant mothers with a registered nurse who provides home visits from early in pregnancy until the child's second birthday.
DUNN COUNTY HUMANE SOCIETY – Identification is your pet's ticket home – $1,270
The Dunn County Humane Society animal shelter serves the needs of homeless, lost abandoned and or stray cats and dogs within the County. In addition to their core mission of caring for these animals and finding permanent homes for the animals in their care, the Humane Society runs two programming efforts in Dunn County. The first is trapping, neutering and releasing feral cats. The second is offering a low cost microchip program for pet owners. Micro chipping has been shown to increase reunification of a stray pet with its owners by 30%. The Foundation is supporting multiple low cost microchip clinics in Dunn County in 2014.
DUNN COUNTY SOLID WASTE – Plastic Bag Recycling Program – $7,500
Dunn County Solid Waste (DCSW) is responsible for collecting waste in 20 of 23 municipalities in Dunn County. All collected material is processed at a Transfer and Recycling Center and is either sent for recycling or transported to a landfill. DCSW has been promoting recycling to residents and in 2012 received the Excellence in Recycling Award from the Wisconsin DNR for their efforts. DCSW is hoping to do more through a collaboration between a non-profit and public and private organizations to collect and recycle plastic film and bags.
DCSW will first increase the awareness and importance of plastic bag and film recycling among Dunn County residents, businesses and industries. In addition to running the awareness campaign they will collect the residential materials for recycling. They are partnering with Indianhead Enterprises (a not-for-profit organization which provides vocational services to individuals with disabilities and other barriers to employment, promoting independence, empowerment and the development of skills needed for successful employment and self-sufficiency.) Indianhead will serve as a drop off point for commercial and industry recycling participants. This program will also create four new positions for people with disabilities at Indianhead. These employees will bale and sell the product to Trex, a company who recycles them into decking and other products.
FREE 4 ALL: THE MENOMONIE COMMUNITY MUSIC SERIES – Free Outdoor Summer Concerts at Wilson Park – $1,000
The Free 4 All Music series has held 4 concerts in Wilson Park each year since 2012. Approximately 600 people attend these free concerts per year.
GLENWOOD CITY AMBULANCE SERVICE – Pagers & Radio Purchase – $2,916.72
Glenwood City Ambulatory Services is a volunteer EMT response team that serves a 126 mile area with 3,665 citizens. They serve Glenwood City and the surrounding townships and villages. They own two ambulances and are backed up by the Menomonie Fire Department. They have 20 volunteer EMT's, with 5 who have 20 years of service or more. Glenwood City is 25-30 minutes away from the nearest hospital, which makes their communication technology a high priority.
We assisted with the purchase of an ambulance radio. The replacement radio permits both the ambulance driver and the EMT's in the back communicate with both dispatch and the hospital emergency room at the same time. This new radio could save lives.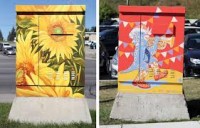 MAIN STREET OF MENOMONIE – Menomonie Arts Power Project – $2500.00
Main Street of Menomonie's mission is to enhance the vitality of downtown Menomonie by engaging the community, respecting our heritage, and promoting growth.  They would like to organize a visual arts project that would use the blank electrical boxes at stop lights around town as their canvas. Local artists would volunteer to paint these boxes. The Foundation was able to provide money for the initial paint and supplies, including a clear protective coat over the artwork once it is complete.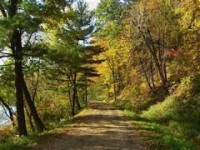 MAMBA – School Forest Trail Project – $5,500
MAMBA is an all-volunteer association whose mission is to work with land owners and managers of public and private land to develop and maintain bike trails. MAMBA has successfully developed 8 miles of trails in Menomin Park in collaboration with the Dunn County. The trails are not only enjoyed by biking enthusiasts but are also used as a training revenue for police and as part of environmental education and volunteer services activities through the schools. MAMBA has an ambitious new project to build and maintain a bike trail system within the Menomonie Area School Forest as a recreational resource for the students and the public.
Their proposal, which we supported, is to create and maintain a bike trail in the School Forest that would not only be an exciting course for bike enthusiasts and possibly increase tourism in Dunn County, but would bring in revenue to the school (through the parking facility) and create educational and recreational opportunities for students.
SHIRLEY DOANE SENIOR CENTER – Ice cube maker with bin – $1,560
The Shirley Doane Senior Center's mission is to help promote continued growth and development, self-respect, self-confidence, and usefulness; by encouraging seniors' participation in contemporary life; and stimulating a dynamic public interest in the aging population and recognition of its potential. The senior center offers adult day services, exercise classes, adult education classes and social activities.
Their ice cube maker has broken. They operate on a very limited and fixed budget and this was an unexpected expense and replacing it would leave them in a budget deficit this year. They can't serve iced water or drinks until it is replaced. We were happy to help!
STEPPING STONES OF DUNN COUNTY – Shelter Equipment – $1994.99
Stepping Stones operates a food pantry, an emergency homeless shelter, and a community connections program that helps low income people with direct financial assistance. During the winter months they also operate a warming shelter called Winter Haven and they facilitate the backpack weekend food program through the schools.
This grant request was for the Stepping Stones Shelter which is a building housing 3 apartments. 47 individuals were able to stay at the shelter in 2013 (275 were turned away but helped through a motel voucher system). Priority at the shelter is given to families with children and residents stay for about one month before transitioning into a more permanent housing situation. The shelter needed three pieces of new equipment which was funded through our Common Good Fund:
They needed to install 5 hardwired carbon monoxide smoke detectors.
The fire department has requested quick access to the building in case of emergency via a Try-lock security outdoor box. This would give them access to the keys and permit them to respond to a fire or other emergency faster.
The shelter's drying machine needs replacing. Stepping Stones recently invested in a new washer but they need a dryer as well.
THE NEIGHBORS OF DUNN COUNTY- Bladder Scanner – $5,000
The Neighbors of Dunn County is a long-term care facility for the frail and elderly as well as an active rehabilitation center. Urinary retention is the inability to empty the bladder. With chronic urinary retention, you may be able to urinate, but you have trouble starting a stream or emptying your bladder completely. Urine is normally sterile, and the normal flow of urine usually prevents bacteria from growing in the urinary tract. When urine stays in the bladder, however, bacteria have a chance to grow and infect the urinary tract. Currently a catheter must be inserted into a patient to determine problematic urinary retention. Some patients require diagnosis through catheterization 1-4 times per day. Diagnosing problematic urinary retention with a catheter has been shown to increase urinary tract infections.
A bladder scanner is a noninvasive way to monitor and assess the bladder condition of patients. It is accurate, can be used repeatedly without pain or trauma, saves nursing time, and is more comfortable with patients than catheterization, especially with regard to patients suffering from dementia. Doctors are becoming concerned with admitting patients to the center because they do not have a way to assess bladder condition in a noninvasive manner. If doctors refuse to admit patients here, they may be sent to a facility outside of Dunn County making it more difficult on family members and the patients.
We were able to fund half of the cost of the bladder scanner.
THE NEIGHBORS OF DUNN COUNTY – One Automatic External Defibrillation Machine – $2,500
The Neighbors of Dunn County own one Automatic External Defibrillation (AED) machine. They used to be housed in a three floor facility and they would keep the AED on the on the middle floor for easy access. Now in a new facility, they have three individual buildings, in part because they are following a state-wide initiative to provide care in a more home/life style and not an institutional setting.
They asked for funding to purchase two new AED machines so that each of their three building "cores" have a machine. They pointed out that the likelihood of resuscitation decreases by about 10% with every minute that passes, therefore quick access to the machine is needed. In addition, their patient population is changing, they have a younger group engaged in rehabilitation in their short stay facility. These patients are not likely to have do not resuscitate orders and want CPR performed if they suffer from complications.
We were able to fund one AED machine.
WEST WISCONSIN LAND TRUST – Expanding capacity, reaching new audiences and employing new tools and techniques – $1,800
The West Wisconsin Land Trust (WWLT) is a nonprofit regional land trust whose mission is to conserve, restore and manage land with high conservation value thereby preserving West Wisconsin's natural character. They requested a grant to improve their online communications to expand their outreach and fundraising. The grant will allow them to hire a 2.5 hour per week employee for twelve months to manage web, social media and e-mail blast functions. As they use new untapped avenues of outreach and communication, they hope to see a growth in membership, donations, and increased website and Facebook hits and likes.
 WILSON PLACE MANSION – STEPS Program and other Staff/ Organization Development – $750
Wilson Place Mansion's mission is to research, preserve and share the dynamic, ongoing influence of a Wisconsin lumber baron family. This small museum has only been open by appointment only since 2000. It is now has one part time staff member with a strong background in historic preservation. She is trying to take action to permit the museum to reopen and be self-sustaining. The grant requested membership fees for the American Association for State and Local History (AASLH). AASLH provides a program called STEPS to its members – Standards and Excellence Program for History Organizations.  It helps small history museums, historic sites and houses, assess their policies and procedures, manage daily operations and plan for the future.  Wilson Place believes this program and companion workbook will help the staff and board members make progress on areas such as mission & governance, audience, interpretation and stewardship, and management of the museum. The ultimate goal of the program is to have Wilson Place align with National Museum Standards.
August 2014 Grants Awarded
ARBOR PLACE – Community Room Furnishings and Equipment – $7,000
Arbor Place provides prevention, treatment, renewal and recovery opportunities to individuals and families impacted by substance abuse and dependence. They currently operate a 16 bed facility but have recently broken ground on a new building which will enhance and expand their current treatment and support programs and services.
As part of their goal to enhance and expand treatment and support programs they have included plans to add a community room to their facility. The community room would provide space for AA and NA support groups, family support groups, for residential clients to meet with their families, community coalition meetings, to hold new community programs and initiatives, lunch and learn events and as a training room. Being a preferred treatment facility and providing training would create income for Arbor Place.
We were able to fund new Community room furnishings.
BOYCEVILLE COMMUNITY ABULANCE DISTRICT – Stryker Power Pro XT Cot – $12,500
The Boyceville EMS crews requested a grant to purchase a power cot to replace the manual cot they have in one ambulance. This is especially needed for bariatric patients (obese or morbidly obese patients). There is a noticeable increase in the number of bariatric patients. This trend presents a challenge to healthcare providers and facilities striving to provide dignified care that is effective and safe both for the patient and the provider. Patient transport related injuries and patient handling related injuries will be reduced with the new cot. Savings include being able to send only one crew and an expected decrease in lost work days due to injury. Patient care and dignity will be increased. We were happy to help with this grant.
BOYS AND GIRLS CLUB OF THE GREATER CHIPPEWA VALLEY – MENOMONIE CENTER – Boys and Girls Club Membership Software – $1,965
This is an equipment request for the new Boys and Girls Club of Menomonie which is due to begin operations out of River Heights Elementary School in October 2014. The Boys and Girls Club of the Greater Chippewa Valley is successfully operating three other clubs in neighboring communities. There is currently no full time after school program serving Menomonie youth.
The new club will be open to grades three through eight and provide financial, social, emotional and academic support to Menomonie youth.  This grant request was for the software that will be needed by the new center to register and track membership and volunteers, and the equipment associated with that (laminator, printer, lanyards & paper).  With this system they can perform background checks on volunteers and monitor their hours, plus they can register and track the youth.
BRIDGE TO HOPE – Replacement of furnace and front storm door – $4,072
Bridge to Hope offers a lifeline to victims of domestic abuse and sexual assault with an emergency shelter, a 24/7 crisis response line, personal advocacy, education and support groups. We were happy to help provide new furnace and storm door for their shelter.
BOYCEVILLE COMMUNITY SCHOOL DISTRICT – Science Technology Equipment Grant – $4,000
This grant request was to provide STEM (science, technology, engineering and mathematics) technology to Tiffany creek Elementary School and Boyceville Middle/ High School.  The grant was conceived after the chemistry teacher was denied funding for new textbooks to replace 20 year old textbooks that were falling apart in the student's hands. By increasing access to the internet in the classroom, the Math and Science teachers believe they can solve a variety of problems and increase learning opportunities in these two schools.
They asked for 30 computers that are to be installed in a mobile laptop cart which can be easily moved from classroom to classroom as well as a 3 D printer.  The laptop cart would serve the upper grades at Tiffany Creek Elementary. They also asked that a 3 D printer be made available to these students as well. The High School has one and it has proven extremely popular with students and has contributed dramatically to their learning experience. The teachers want to introduce 3 D printing at an earlier age, not only to increase students interested in STEM careers but also because they want to prepare them for entering a workforce where 3 D printing is likely to be the norm (especially in growing fields like medical fields – e.g. prosthetics).
We were happy to help and so was one of our donors read more about it here. 
DUNN COUNTY HISTORICAL SOCIETY – Computer Upgrades – $900
The historical society requested upgrades for their 5 computers. They needed to upgrade to computers that can run Windows 8 as XP is no longer supported. Before security breaches of donor information was a concern with the old software. In addition, they use a database called PastPerfect to digitize and store all of their artifacts.  Pastperfect is museum specific software that streamlines their inventory, organize their collect and makes it searchable on the web. Computer upgrades will allow this system to function better. Finally the new computers will allow them to process and save larger files permitting them to communicate better with people interested in either giving or seeing historical documents or artifacts.
DUNN COUNTY SHERIFFS DEPARTMENT (EMERGENCY MEDICAL RESPONDERS) – Diabetic Kits – $1,113.00
An all-volunteer program of EMS responders, funded by private donations, necessary to respond to 911 calls in a large rural county such as ours. All EMS responders are fully trained and licensed by the state but are restricted in the types of treatments they can administer because they are not paramedics. On average they arrive at a scene 5-15 minutes before the ambulance.
A new state law permits volunteers EMS crews to administer a test for suspected diabetic emergency and administer glucose immediately rather than wait for paramedics or arrival at the hospital.
The Dunn County Medical Responders have been trained in this new procedure but did not have resources to purchase the medical supplies they need to use. Once a person suspected to be in a diabetic crisis falls unconscious, EMS personnel cannot administer the recommended IV treatment, they must wait for paramedics or other medical personnel. Therefore, identifying diabetic crisis early and administering glucose immediately can make the difference in a potentially fatal emergency.
We were happy to help fill such a vital need.
MABEL TAINTER CENTER FOR THE ARTS – High School Performance of the Nutcracker – $2,500
This was a request to fund a performance by the Continental Ballet Company of the Nutcracker in December. This program was previously funded by the Foundation in 2012 and it was a great success. The Mabel Tainter can never be sure that their venue and the Ballet Company will be available from year to year. Therefore, they cannot account for this program during budgeting or fundraising planning.  Since the company is available for a performance this year that works with the Mabel Tainter's schedule they are asking us to consider funding this even though it is for the same purpose as the previous grant.
The grant permitted 250 students from Downsville and Knapp Elementary School to attend a live ballet performance.  The program included a talk back session with the youth. Schools have seen cuts in funding to arts programs and field trips. For some children this was their first ever visit to the Mabel Tainter and their first live dance performance at a theater. Downsville and Knapp Elementary School were chosen based on the financial situation of their student population.
 
MAMBA – Menomin Park Trail Mower  – $2,500
MAMBA is an all-volunteer association whose mission is to work with land owners and managers of public and private land to develop and maintain bike trails. MAMBA has successfully developed 8 miles of trails in Menomin Park in collaboration with the Dunn County. The trails are not only enjoyed by biking enthusiasts but are also used as training venue for police and as part of environmental education and volunteer services activities through the schools.
They requested a brush mower to make care and maintenance of these trails easier for their volunteers. They recently received a grant from Dunn County Energy for a shed that can be used to house the mower.
They estimated their new mower  will cut the time in half that their volunteers spend maintaining the Menomin's trails.
MENOMONIE POLICE DEPARTMENT – Police Explorers Program – $1,000
As members of the Menomonie Police Department Explorer's Program, local youth between the ages of 14 and 18 have a chance to learn through hands-on activities just what it's like to be a police officer. It is intended to introduce youths to a career in law enforcement, while at the same time building skills and developing traits that will serve them in any career path. They get a behind-the-scenes view of police work by accompanying officers on the job and are actually involved in minor police work, such as patrolling public events.
The variety of activities and challenges are intended to build character and discipline. A shortened list of some of the skills they learn would include team building, public speaking, leadership, conflict resolution and problem-solving.
The Menomonie Police Department is trying to get this program off the ground having witnessed its success in other areas of the country. They need some funds to accomplish this. An initial donation by the Lion's Club allowed them to start the program this year with a few youth. Now they would like some boost funding to market the program, provide uniforms for the youth, provide financing to explorers who otherwise cannot afford it, and send the explorers to a state competition.  The grant would provide funding for as many youth who want to participate for as long as possible. They will also be able to focus on a strategy for attracting the donors they need to make this program sustainable.
OAKLAWN HARMONY CENTER – New LED parking lot lighting – $7,500
In 2005, with USDA rural development funds, a community development block grant, the city of Menomonie and other local contributors, a new center for non-profit organizations called Oaklawn Harmony Center was founded in Menomonie. It is managed by a nonprofit whose mission is to provide low-cost, affordable rental space in Dunn County. Four nonprofits operate out of the building – the United Way, Head Start, Reach, and the Rural Dental Health Clinic.
The buildings electrical was struck by lightning in 2013. Following the incident, both interior and exterior lights would go on and off or behave oddly. The original electrical contractors B&B Electric was paid through their insurance to rewire the interior of the building in February 2014. This has fixed many of the problems inside the building. However, in the parking lot, lights come in go bright and then go out.  They do not function normally, coming on in daylight and turning off at night.
In addition, since the lightening strike Oaklawn has seen and incredible increase in their energy costs. The February rewiring has done little to change this and as a result, Oaklawn Harmony is having to require the non-profits to pay higher energy costs. The nonprofits have all written letters explaining how this issue affects them.  For them it is both a safety concern and a sustainability issue.
B&B Electric has worked hard to identify the problem and find out what is drawing the power? Repairs have never lasted more than a few weeks. They can attempt a full repair or replace the lights with new LED lights. The LED lights could work for 10-20 years. They expect to see a significant energy reduction with this upgrade.
We were happy to help!
UW-STOUT – Steps for Girls Summer Camp Program – $5,000
Steps for Girls aims to break down gender and cultural biases that may prevent young women from considering careers in science, technology, engineering and math (STEM). STEPS is a summer experience for middle school girls that can be a stepping-stone to a career in STEM related fields that typically are male-dominated. Typically 160 girls spent a week on the Stout Campus in groups of 40.
The STEPS experience focuses on manufacturing engineering through the fabrication of a unique product, an obstacle-avoiding robot, the Bug Bot, in a realistic production setting. Girls have hands-on lab sessions for packaging, plastics, electronics, automation and foundry and produce essential components for the robot. Girls see all aspects of a manufacturing process. They go to the foundry and help make aluminum robot parts, learn about plastic thermoforming and make the robot shell, build antennas in an automation class and, in a packaging class, make a case to carry their robot.
This incredibly popular camp experience for girls has been at UW-Stout for 18 years.