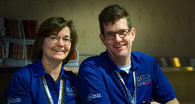 An easy way to think about a donor-advised fund is like a charitable savings account; a donor contributes to the fund as frequently as they like and then recommends grants to their favorite charity when they are ready.
DAFs have become philanthropy's fastest growing vehicle in recent years. Today, they account for more than 3 percent of all charitable giving in the United States. We asked some of our donor advised fund holders to tell us why they chose to give through the Community Foundation. Here is what Kim and Jerry Porter told us…
After moving numerous times for professional engineering careers, Kim and Jerry Porter found a home here in Dunn County. Early on, they built relationships with their involvement in youth hockey, the Humane Society, and bicycling. Now Kim's leadership with the Community Foundation, the Women's Giving Circle, and the Free Clinic continue to expand their knowledge, relationships, and giving philosophy. Their financial adviser recommended that they take a look at the Community Foundation as part of their long term charitable strategy. They liked the flexible options provided by a donor-advised fund. They each have passions that drive their grantmaking recommendations:
Creating and supporting recreational and fitness activities with focus on outdoor silent sports, such as bicycling and cross-country skiing.
STEM (Science, Technology, Engineering, & Math) education, with particular attention to girls.
The Porters want people to know that it is easy to get involved with the Foundation. Donors have huge flexibility with giving and legacy choices, and you don't have to be wealthy to get started.