The Fraternity of Free and Accepted Masons is the oldest, largest and most widely known fraternal organization in the world.  The organization strives to "make good men even better" through emphasizing the individual man by strengthening his character, improving his moral and spiritual outlook, and broadening his mental horizons.
Freemasons not only take an obligation to help one another, but also to help those who cannot help themselves.  American Freemasonry and its related organizations give more than 2 million dollars per day to various charities.  One of their most notable projects includes their support for the Shriners Hospitals for Children.
Wisconsin Freemasons, through the local lodges and their Grand Lodge, also have a long and honorable history of supporting charitable projects in the community and across the state.  With the help of the Wisconsin Masonic Foundation, the local Masonic Lodge 164 is helping Dunn County youth realize their potential through educational scholarship funding.
Projected Number of Scholarships and Amounts:Â The annual award of the scholarship is 1 to 3 total $500 scholarships available to Colfax, Menomonie, and Boyceville high schools.
Recommended Criteria of Eligibility:
Applicants must be graduating seniors from Colfax, Menomonie, or Boyceville high schools.
Applicants must be entering an accredited four year college or university, or two year technical or community college.
Applications must include one signed letter of recommendation from a Masonic Lodge member.
Applicants should include a description of any family connections to a current (or past) Freemason. Masonic affiliations might include Blue Lodges, Shriners, Scottish Rite, York Rite, Eastern Star, DeMolay, etc.
Eligible graduating seniors must contact their high school guidance office to apply.

---
Past Masonic Lodge 164 Scholarship Recipients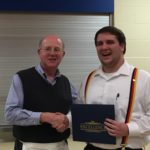 2017: Bryce Fransway – Colfax High School
"I am the first generation of my family to attend university. Â I plan on pursuing a career in business and public service. Including, but not limited to: entrepreneur, businessman, and lawyer. It is my belief that I can use my skills from these respective career paths to aid both my community and myself. "